Touch Sensor Bedside Lamp
---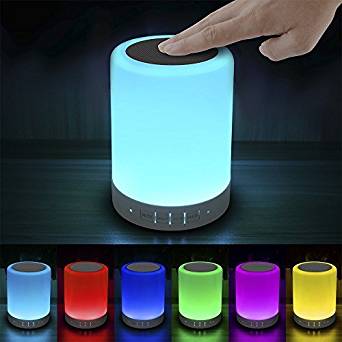 Elecstars Touch Sensor Bedside Lamp, Dimmable Warm White Light & Color Changing, Bluetooth Speaker
£9.99
All-in-one function: Bluetooth + Touch Control LED table lamp + alarm clock + music player, all in one, super easy connection with Bluetooth 4.0, compatible with all Bluetooth devices. 4 level LED Color Changing Night Light with the design of the touch sensor on the top. Hands-free speaker input, can be used as MP3 player with USB and TF card.
3 Light Modes: 4 Mode Adjustable Light Level of Brightness + Light Settings mesmerising + Dynamic Light colour changing mode. and above all, the last mode offers an automatic multi-coloured colour changing light that can build up an instant & unique & romantic atmosphere at any time anywhere. The pure, warm light, and soft keep you soft Land of Dreams.
Portable Bluetooth Speaker: High quality Bluetooth stereo speakers are the sound experience, one of the best you will find. A built-in microphone support hands free call, easy and convenient for you to answer the call. Portable Speakers for easy carrying, suitable for the party, Yoga, Travel, Home, living room, bedroom.
Long life: construire-dans 1800 mAh High Capacity Rechargeable Battery, Support up to 12 hours continuous bluetooth music listen to, or high brightness 8 hours lighting or light illumination of 180 hours. The fully charged charge easy by a USB cable with 4 to 5 hours.
Ideal gift - Classic features amazing and its elegant appearance make it a perfect present for any occasion. As Birthday, no?L, Halloween, holiday, wedding or birthday party, so perfect for a durable and valuable Gifts You.
---